Where to swim at the Eau d'Heure Lakes?
Are you planning a trip to Lacs de l'Eau d'Heure but wondering whether you'll be able to swim in the lake? Here's everything you need to know about swimming around the lakes.
There are two supervised beach areas and an aquatic complex with a wellness area.
SWIMMING AT THE EAU D'HEURE LAKES
Covering some 1,800 hectares, Belgium's largest lakes don't allow you to swim just anywhere. Although the site comprises 5 lakes, swimming is only permitted in two: Lac de la Plate Taille and Lac de Falemprise.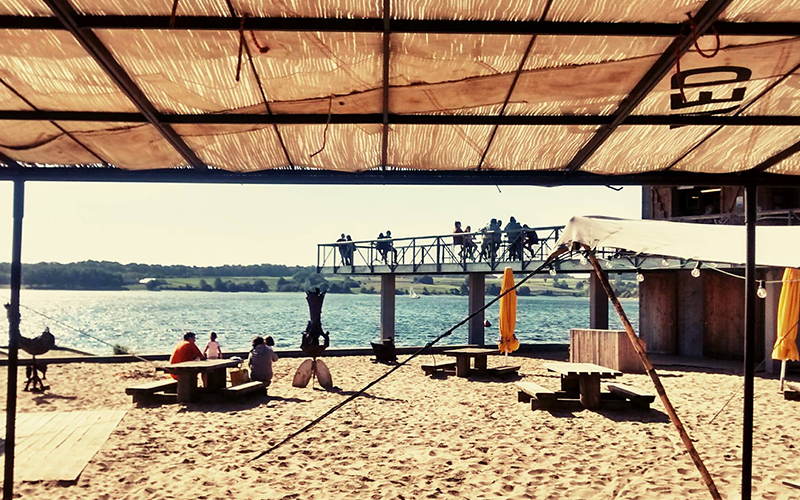 A LIFEGUARDED BEACH 200M FROM GOLDEN LAKES
And just what we need! The Golden Lakes estate is located on the shores of Lac de la Plate Taille, just 200m from the Espace Fun beach, the first bathing area in the Lacs de l'Eau d'Heure.
Equipped with a beach volleyball court, the accessible area is bordered by a stepped sandy beach and a line of buoys. Depending on the weather, lifeguards are on hand to ensure everyone's safety.
HAVE A DRINK AT LES LACS DE L'EAU D'HEURE, WITH YOUR FEET IN THE WATER
A beach bar is open all summer long, serving cocktails and refreshing drinks. Live music concerts are also organized on certain weekends. You can check out all the events on the Espace Fun facebook page.
LE RELAIS DE FALEMPRISE AT LAC DE FALEMPRISE
Just a few minutes from the resort by car and easily accessible by bike, the Relais de Falemprise offers holidaymakers a swimming area that is also supervised during the summer season. The area is bordered by stilts and a sandy beach, with plenty of lawns around for relaxing and sunbathing.
The Relais de Falemprise beach and bathing area are ideal for spending a pleasant moment by the lake. With a playground for children and a large terrace for parents, the Relais' facilities are ideal for families.
This area is accessible simply by paying the entrance fee.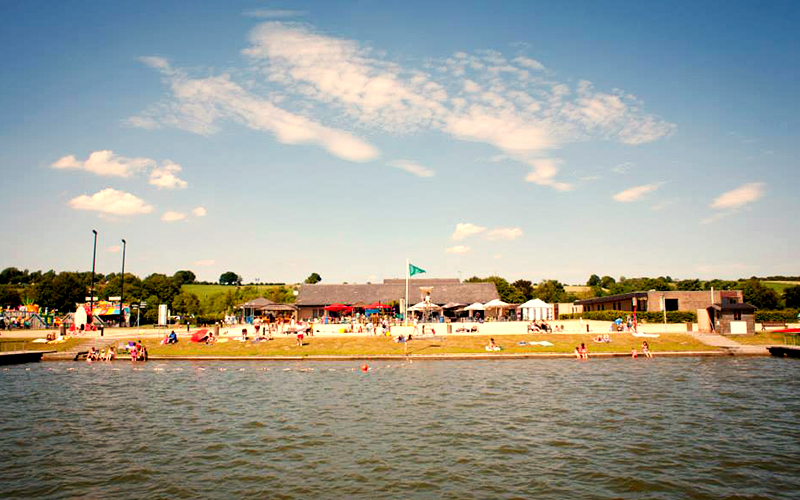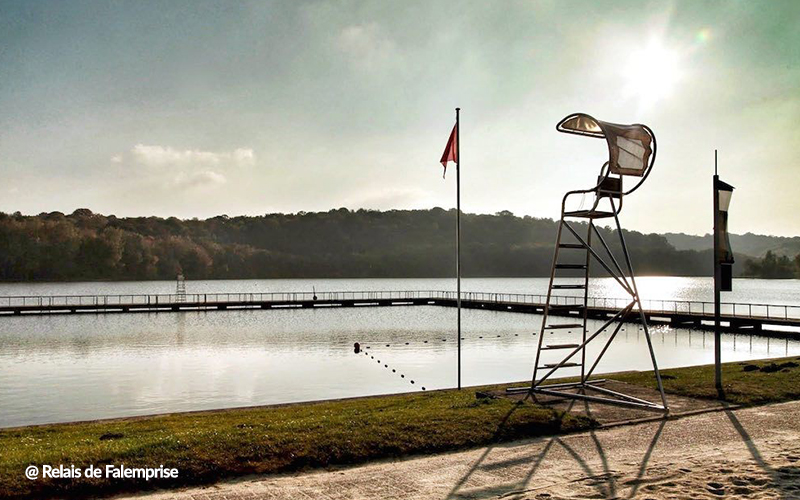 SAFE BATHING AT THE LAKES DE L'EAU D'HEURE
The two bathing areas at Lacs de l'Eau d'Heure are officially recognized and generally offer excellent water quality. If you wish, you can consult the water quality index via the following link: Water quality at Lacs de l'Eau d'Heure
As with beaches on the coast or in the South of France, flags are displayed to indicate whether or not bathing is permitted.
The green flag means that swimming is authorized, i.e. that the water quality is suitable for bathing and is supervised by lifeguards.
The red flag prohibits bathing because of potential dangers or because the water quality is not confirmed. Please note that no flag = red flag.
NOT A FAN OF THE LAKE? VISIT THE CINQ MONDES SPA
If you're not keen on swimming in the Eau d'Heure lakes, opt for the hotel's Cinq Mondes SPA.
This intimate lakeside SPA is limited to 14 people at a time. It features an outdoor relaxation area with deckchairs and four-poster beds for soaking up the sun.
Inside, a hot-water pool with various water attractions, a jacuzzi and various saunas await you for a moment of absolute well-being.
Take a look at the following website to discover the formulas available and more photos of the SPA: SPA Cinq Mondes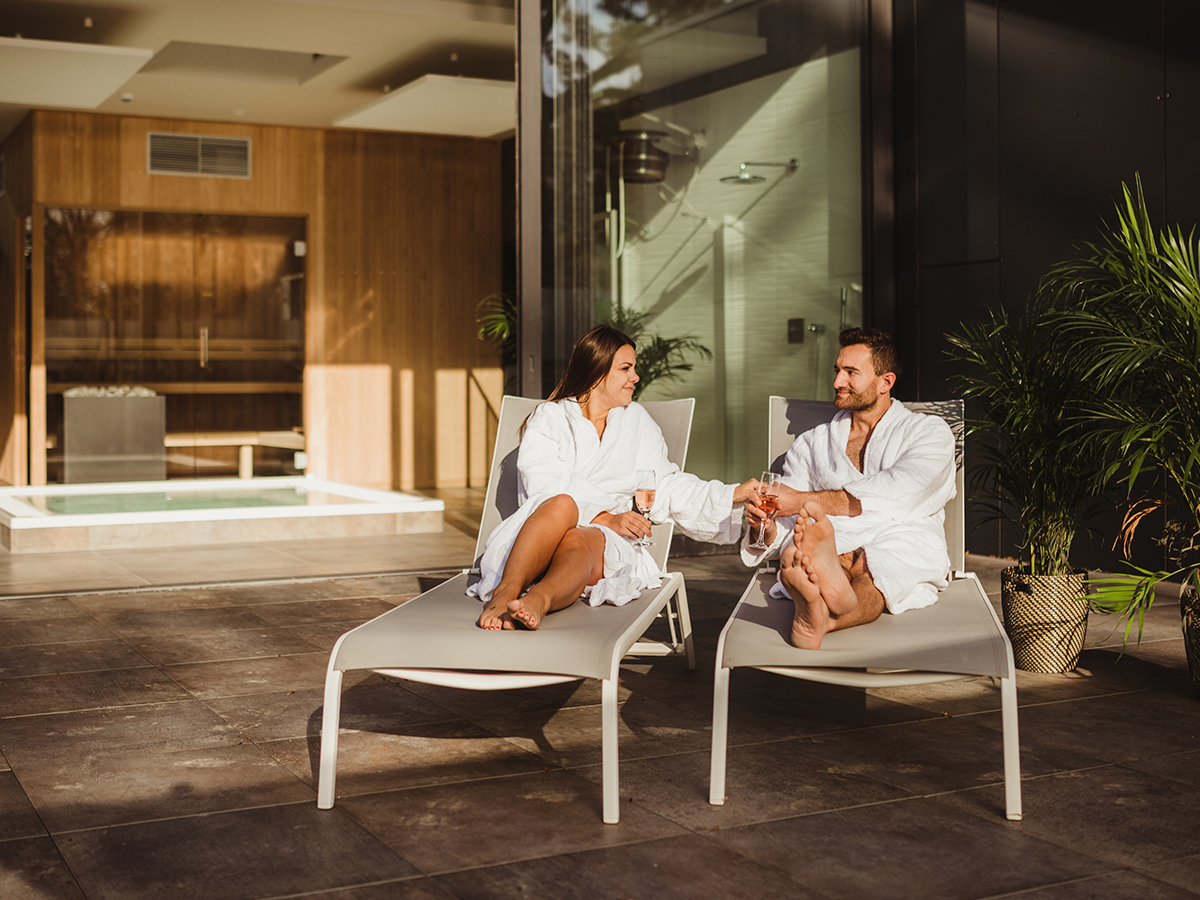 Tags: Lacs de l'Eau d'Heure, Activités