A gourmet walk around the Lacs de l'Eau d'Heure
---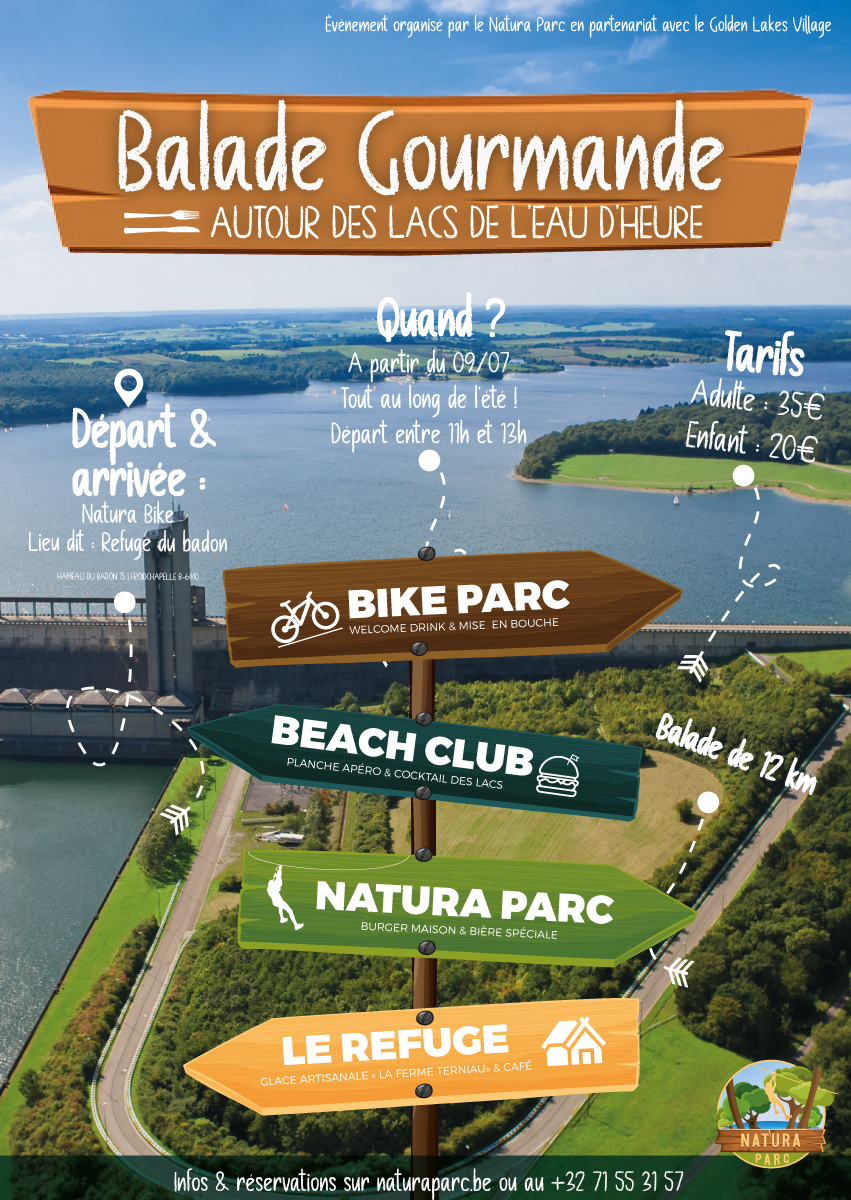 THE GOURMET WALK AROUND THE LAKES
This is the new feature of the 2022 summer season and will probably delight the most gourmets among you. In collaboration with Natura Parc, the Golden Lakes Village offers you a gourmet walk around the lakes.
Starting from the Bike Park, you will embark on a 12 km long loop to successively reach the Golden Lakes Beach Club, the Natura Snack and finally the Refuge du Badon on the heights of the lakes. This nature walk will offer you beautiful views of the landscape surrounding the lake.
FREE DEPARTURE FROM 11AM TO 1PM - ACTIVITY 7/7 ALL SUMMER!
The activity is offered from Saturday 9 July until the end of August. The only condition: the weather must be favourable. On rainy days, it will not be possible to start the gourmet walk.
Departures are from the Bike Park (Natura Bike) every day between 11am and 1pm. On arrival, you will receive a welcome kit with instructions, a map of the ride and information on how to reach the next meeting points.
The gourmet walk is a great opportunity to combine a discovery walk with the pleasures of taste. What's more, the products that will be offered during this activity are made with local products from our region.
On the menu: the welcome drink and its appetizers before setting off, followed by the aperitif board with regional products and the lake cocktail. Further along the route, the lake burger awaits you at the Natura Parc snack bar, accompanied by a special beer. You will finish your walk with the final reward: an artisanal ice cream made by La Ferme Terniau in Froidchapelle with an excellent coffee.
BOOK YOUR GOURMET WALK
Tempted by the adventure? This activity is available for 35€ per adult and 20€ per child (under 13 years old). For minors and people who do not drink alcohol, a version of the lakes mocktail and a refreshing drink are on the programme to keep you hydrated.
Reservations are compulsory and can be made online directly from the website of our partner, Natura Parc. Click on the button below to book your gourmet walk around the Lacs de l'Eau d'Heure.
Tags: Promos, Lacs de l'Eau d'Heure